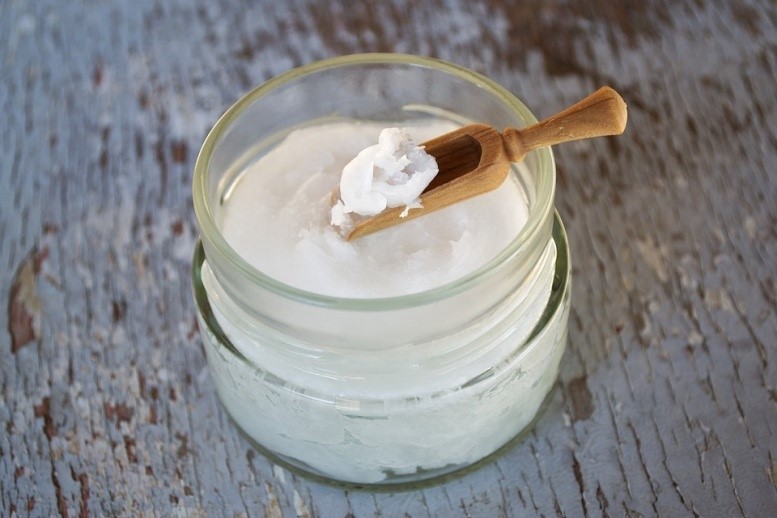 Vegetable butters and oils help protect skin, are moisturizing, and rich in skin-loving nutrients. Vegetable oils are liquid at room temperature and vegetable butters are solid at room temperature.
These are the butters and oils that I use in making my sugar scrubs and daily face cream:
Coconut Oil
The intoxicating smell of coconut oil is one reason why it is so popular, but also it has incredible moisturizing properties because it softens and soothes the skin. The skin absorbs the fatty acids of this oil and it uses them to energize the skin so it can heal naturally.
Coconut oil is an anti-microbial and antiseptic that contains capric acids, caprylic acid, and lauric acid, and it has antiviral, antifungal, and antibacterial properties as well. It is a natural treatment for acne and it prevents premature aging and wrinkles.
Olive Oil
Made by pressing multiple olives and taking their oil, olive oil is a great oil that can be used to achieve healthy skin. Apart from having health benefits, olive oil is great for the skin as it makes it clear, hydrated, and gives it a natural glow. Olive oil contains important vitamins like vitamin A, D, K, and vitamin E. This oil has antioxidant properties that can prevent "cancer-causing ultraviolet radiation."
The important ingredient of this oil is squalene, which gives the antioxidant boost. People that are prone to getting acne can use a soap made of olive oil so it can kill bacteria that causes acne while also hydrating the skin.
Avocado Butter
Avocado butter has the ability to make your skin glow so it looks healthier and more alive. The reason is that this body butter contains antioxidant vitamins (vitamin A, D, and E) that kill free radicals from your skin that cause premature aging, wrinkles, and fine lines. Avocado butter has natural properties that protect your skin and hair from the ultraviolet radiation of the sun. While doing so, it moisturizes the skin and makes it clear as it removes bacteria from the surface of your skin.
Mango Butter
Mango butter has natural wound healing, regenerative activity and emollient properties. Traditionally, it is used to make the skin softer and smoother while it protects it, restores its flexibility, and lessens the degeneration of skin cells. It also protects the skin from UV radiation. Mango butter is recommended to diminish the appearance of wrinkles and fine lines.
Mango butter treats dry skin, heals rashes and peeling, relieves itching, treats sunburns, clear wrinkles and blemishes, and rejuvenates the skin.
Vitamin E Oil
Vitamin E oil is a nutrient and it has antioxidant properties. The National Institutes of Health Office of Dietary Supplements claims that this oil can neutralize free radicals that contribute to damaged cells, cancer, cardiovascular disease, and other ailments. It is considered a "powerful fat-soluble antioxidant: that can revive the skin. It is made with a group of 8 different compounds; all of which are beneficial to the skin.
It nourishes the skin, reduces the appearance of fine lines and wrinkles, treats dark circles and sunburns, and it is known as a cleansing agent.
Carrot Powder
If you are looking for a natural way of toning and repairing the skin, reducing scars and wrinkles while improving the blood circulation of your skin and providing your skin with beta carotene, then the best option would be carrot powder. Although, the consistency of this powder is different from the other powder, it is one that has endless benefits.
Vegetable Glycerin
Vegetable glycerin is a "natural triglyceride" that is extracted from palm, coconut, and soy oils. It is composed of hydrogen, carbon, and oxygen making it an organic compound. This natural product is a great moisturizer as it makes the skin soft and smooth. It has humectants properties that attract water so the skin can stay radiant and hydrated for longer periods.
Moreover, it can be used as a toner and cleanser. Even people that have oily skin can use vegetable glycerin because it regulates the production of natural oils.